DiscoRobo Single
As a combination of hi-tech and entertainment, the talking DiscoRobo can feel
and dance to many beats of life, from your music to your beat-box,
your hand claps and even your footsteps. Users can also engage with this fascinating toy via an app which allows them to chat with DiscoRobo or customize its dancing steps.
* Special Christmas Promotion: Free Santa Claus outfit and head-spinner accessory included.
KEY FEATURES
Beat sensitivity technology – unlimited dancing to any music
56 sophisticated movements – High level of freedom with multiple joints
Interactive talking features in pair of 2 robots or chatting mode with users
Customizable dancing steps with smartphones/tablets
8 lovely face expressions
Super bright glow
SPECIFICATIONS
Model DiscoRobo Singple
Color Blue, Red, Pink, Purple
Packaging 1 DiscoRobo/Pack
Product weight Net: 390g/ Gross: 600 g
Product dimension (L)120mm x (W) 182mm x (H) 235mm
Battery 8 x AA 1.5V
Accessory Head spinner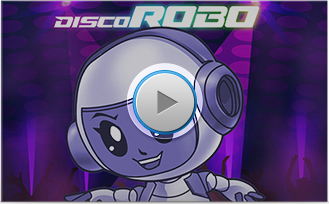 PRODUCT INFORMATION VIDEO
Here's a short video to help you better understand all the cool features of DiscoRobo!
Getting started

Turn on some music and press the belly button to activate the robot. You can dance together with DiscoRobo or create other sounds for the robot to move along, such as: beatbox, drum beats, hand claps...

Enjoy the awesome robot

There are so many way to get interactive with DiscoRobo. Pair two DiscoRobo face to face and they will start a conversation and dance synchronously. Download the DiscoRobo Chat app to chat with it or customize its dancing steps. Download the full manual right here

Attention, Disco-lovers!

Some helpful tips to better enjoy the robot: holding the robot by its belly; play high-quality music with bass sound for the robot to dance better...